One of the best remembered Television shows of the 1950's was called This Is Your Life, and it `starred' it's creator, radio announcer-turned-producer  Ralph Edwards.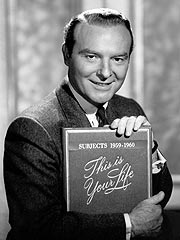 Edwards began his radio career at the age of 16, working for local radio stations in the San Francisco area starting in 1929.  After a lackluster early career, his big break came in 1938, when he became an announcer for Columbia Broadcasting System on WABC, where he would work with two other personalities who would  make it big - Andre Baruch and Mel Allen.
Edwards became the announcer for Major Bowes Amateur Hour, and for Fred Allen on Town Hall Tonight.    He perfected a `chuckling delivery', where he could say practically anything with a hint of mirth in his voice.
This `laugh in the voice' technique would serve him well over the years, and get him jobs doing voice-overs for movie trailers for Laurel and Hardy, and helped soothe unhappy participants on This Is Your Life.
In 1940, Edwards create his most enduring show, something called Truth or Consequences.  It would run, first on radio, then on television . . .for 38 years.
Now, most people reading this undoubtedly remember the TV version. But how could a show, which relied greatly on visual humor, work on the radio?
Well, having a live studio audience roaring with laughter, as Ralph Edwards described the action, certainly helped!
Contestants would be asked a question, and given a few seconds to come up with the unlikely answer.   A question might read, "Other than Australia . . .who raises the most lamb?" 
If you guessed the United States, or Ireland, or any other country - you'd be wrong.  The answer they were looking for was `sheep'.
Edwards would have a `part 2' to any question, should a contestant get lucky and get the trick question right.
Once a contestant failed to answer correctly, they had to pay the `consequences', which meant performing a stunt that would earn them $50 or $75 dollars.   
In the 1940's, that was more than a week's pay for most people, and so it wasn't as trivial as it sounds.
Edwards would also give clues to mystery `voices', and then call random phone numbers around the country, looking for a correct guess on the voice's identity.
Each week, the prize pool would increase.   Trips to Hawaii, furniture, Cash . . .  the grand prize soon became impressive, and it induced listeners to make sure they heard every clue.  
We've a nice selection of the Truth or Consequences radio show available on the Internet Archive.
Imitating Airplane Sounds                6.8 MB
Guest - The Glee Club                      15 MB
Crackers In The Mouth                     28 MB
The Hot Seat                                    15 MB
Squirtless Seltzer Bottle                   15 MB
Instructions For Milking A Cow         15 MB
Suspended Over A Water Tank         7.5 MB
Sing 'Rockabye Baby'                         15 MB
Christmas Seals                                 27 MB
Guest - William Bendix                      28 MB
Walking Man Revealed                       27 MB
Guest - Boris Karloff                          27 MB
Guest - Spike Jones                           29 MB
Sit in a Crow's Nest                            27 MB
The Laughing Boy Is Guessed            6.9 MB
Man Sealed In Room For One Week   27 MB
Truth or Consequences would sometimes go for the heartstrings, staging family reunions, bringing war buddies back together, and most famously, in 1948 asking for donations to help a young boy they called `Jimmy' - who was in a cancer ward in Boston - get a TV set to watch his beloved Boston Braves, and to fund cancer research.
"Let's make Jimmy and thousands of other boys and girls happy who are suffering from cancer, by aiding the research to help find a cure for cancer in children," Edwards asked his listeners.
In one week, $20,000 was raised and the Jimmy Fund was created.  The Braves championed this fund until their move to Milwaukee in 1953, then the Red Sox took over.
Truth or Consequences made a hugely successful transition to television, first with Ralph Edwards as host, and then in 1956, with Bob Barker.
While Edwards would create other Television shows, such as Name That Tune (1970s) and The People's Court, beyond Truth or Consequences, he is probably best known for the hugely popular, and often parodied, This is Your Life.
The format was simple. 
Each week Ralph Edwards would surprise someone (usually a celebrity, but sometimes not) live, in front of a studio audience, with a biography of their life.   While a few guests may have known what was coming, most were completely caught by surprise.
He would fly in long lost loves, old pals, and elementary school teachers to reminisce.    A few of the `guests' were mortified by the experience, but most came to enjoy the ambush show before the ending credits rolled.
Stan Laurel reportedly held a grudge for years, being `tricked' into doing his and Oliver Hardy's only American Television appearance on December 1st, 1954.
Lowell Thomas was probably the most openly hostile on-air guest.  When Edwards assured the visibly annoyed Thomas that he would enjoy what was to come, Thomas replied, "I doubt that very much."
Edwards was one celebrity who was never honored with a show.  He gave strict orders that to do so would result in the firing of his entire staff.
We've got 7 episodes, including the infamous Laurel and Hardy episode.  We don't have Lowell Thomas.  A pity.
Edwards, who died in 2005, continued to produce successful television shows well into the 1980's and 1990's, including the creation of a popular new genre of show - `courtroom' arbitration. 
He made Judge Joseph Wapner a star. 
He was 92 when he died.  One of the true pioneers of radio, of early TV, and the creative force behind a huge segment of Americana.
Ralph Edwards, this was your life.